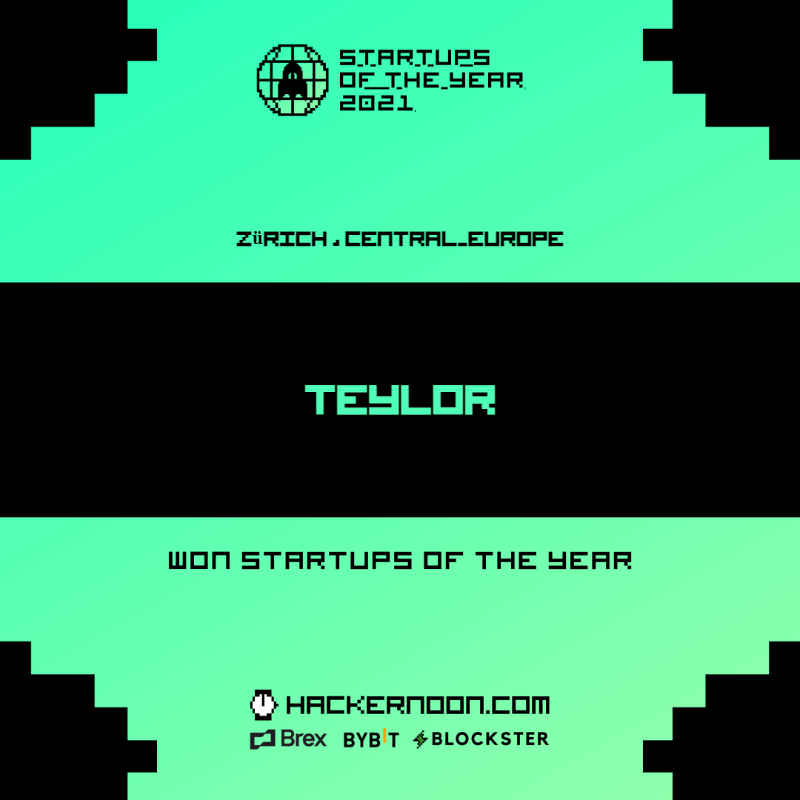 Teylor Named HackerNoon Startup of the Year 2021 in Zurich
The technology community HackerNoon has declared Teylor as Zurich's best startup in 2021
The technology community with 15,000+ contributors and 3,000,000+ monthly readers has declared Teylor as Zurich's best startup in 2021
Zurich, February 22, 2022 - The international tech community has voted: Teylor was named Zurich's Start-up of the Year 2021. The award of the HackerNoon platform with over 15,000 contributors, founders, thought leaders & technology enthusiasts and 3,000,000+ monthly readers honors Teylor's work in SME lending technology.
Each year, HackerNoon nominates the most promising high-growth startups in the world's leading tech hubs, and the community votes the winners. The focus is on breakthrough technologies that offer real value to users and companies with fast-growing business models. With this year's award, HackerNoon also wanted to get behind the creators and pioneers who backed the world through the pandemic with innovative technologies.
Patrick Stäuble, founder and CEO of Teylor, comments: "We are very excited about the HackerNoon award and the recognition from the tech community. Many in our team read or write on the HackerNoon platform, so we are proud that our work is appreciated there as well."
In 2022, Teylor plans to develop its technology platform further and expand into international markets. The aim is to consolidate its position as the leading lending technology provider in Germany and become the market leader in the European Fintech lending market.
About Teylor AG
Teylor is the Swiss technology company that has developed the Teylor Platform, a suite of software modules that enable financial institutions to build, deliver and scale digital credit products. Teylor can customize its software modules to fit the requirements of any credit provider and credit product. Lenders can pick individual modules to complement and integrate with their existing legacy processes and technologies or develop entirely new digital processes from scratch. Banks throughout Europe use Teylor's software modules to innovate their lending processes, digitize their products and reduce the cost of lending. SMEs rely on Teylor for fast and convenient access to capital through Teylor's own private debt fund. The Zurich-based company was founded in 2018 by Patrick Stäuble.
www.teylor.com
Press contact:
newskontor - Agency for Communication
Sascha Grundmann
Phone +49 (0)211-863949-21
press@teylor.com