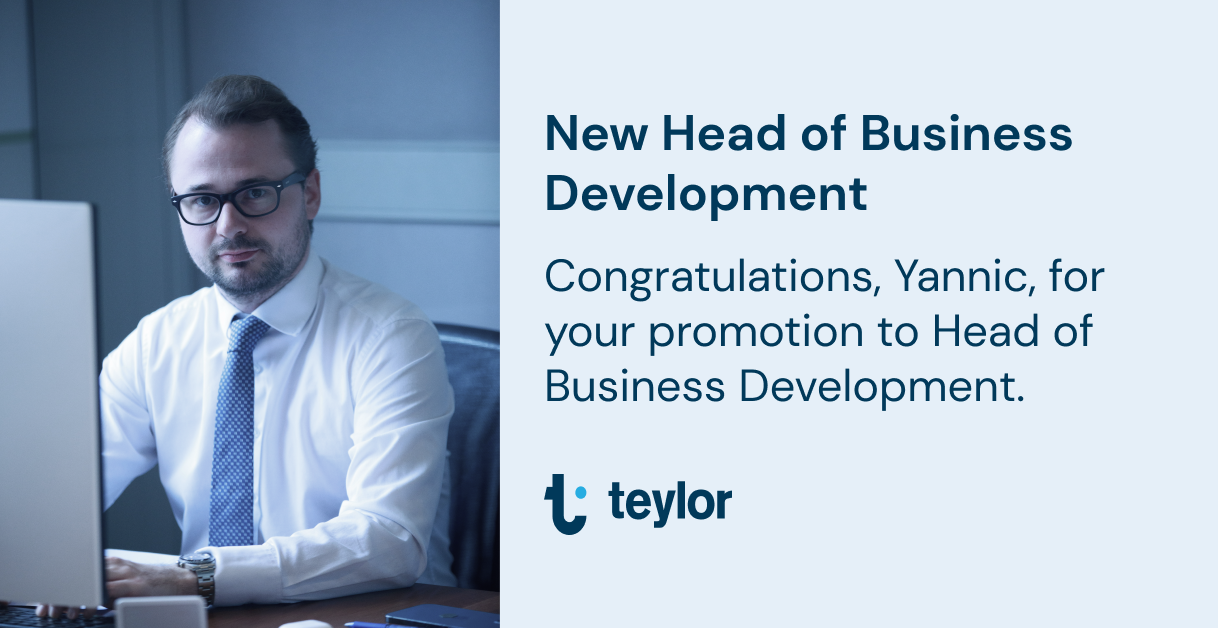 Teylor Builds Strong Partnerships: Yannic Renatus Becomes Head of Business Development
Teylor is internationalizing its software business and builds strategic partnerships with local and global system integrators.
Yannic Renatus will expand Teylor's partner network as Head of Business Development in Germany and internationally.
The Swiss fintech aims to become Europe's leading provider of software solutions for SME lending.
Zurich, 20th July 2023 – Teylor's Software-as-a-Service (SaaS) solutions to digitize credit processes have gained a strong foothold in the German market. The Swiss fintech is now connecting more and more international financial institutions to the Teylor platform. To speed up this internationalization, Teylor has promoted Yannic Renatus to Head of Business Development. He will build up the international partner network and play a key role in expanding Teylor's software business.
Yannic Renatus comments:
"More than a dozen financial institutions in Germany are now using our SaaS solutions, and we have finalized first international projects. We want to build up on these successes and strengthen our partnerships with local and global software providers and system integrators. I look forward to driving these developments as Head of Business Development."
Yannic Renatus joined Teylor at the beginning of 2022. Previously, he was Head of Institutional Partner Management at another Zurich-based fintech, where he managed relationships with a large number of European blue-chip financial institutions. After joining Teylor, he led the development of the partner network in Germany, which includes international management consultancies such as Sopra Steria and software companies like Swiss-based Crealogix.
Patrick Stäuble, CEO and Founder of Teylor, comments:
"Our partner network plays a key role in our expansion strategy. With Yannic Renatus, we have an experienced Head of Business Development who knows our partners and customers well. We are delighted that he is taking on this role and will implement the success of our partner strategy in the international market."
Teylor's SaaS solutions digitize lending processes to increase the profitability and security of lending. Today, lending to small and medium-sized enterprises (SMEs) is not profitable for traditional banks. The main reason is outdated, paper-based processes. Teylor solves this challenge through digital technology: Automated processes reduce the operational cost of lending, shorten processing times from weeks to minutes, increase customer satisfaction, improve risk management, and enable better compliance.
About Teylor AG
Teylor is the Swiss technology company that has developed the Teylor Credit Platform, a suite of software modules that enable financial institutions to build, deliver and scale digital credit products. Banks throughout Europe use Teylor's software modules to innovate their lending processes, digitise their products and reduce the cost of lending. SMEs rely on Teylor for fast and convenient access to capital through Teylor's private debt fund. Teylor can customise its software modules to fit the requirements of any credit provider and credit product. Lenders can pick individual modules to complement and integrate with their existing legacy processes and technologies or develop entirely new digital processes from scratch. Teylor is Zurich-based and was founded in 2018 by Patrick Stäuble. For more information, please visit https://teylor.com/
Press contact
Lukas Hofer
press@teylor.com