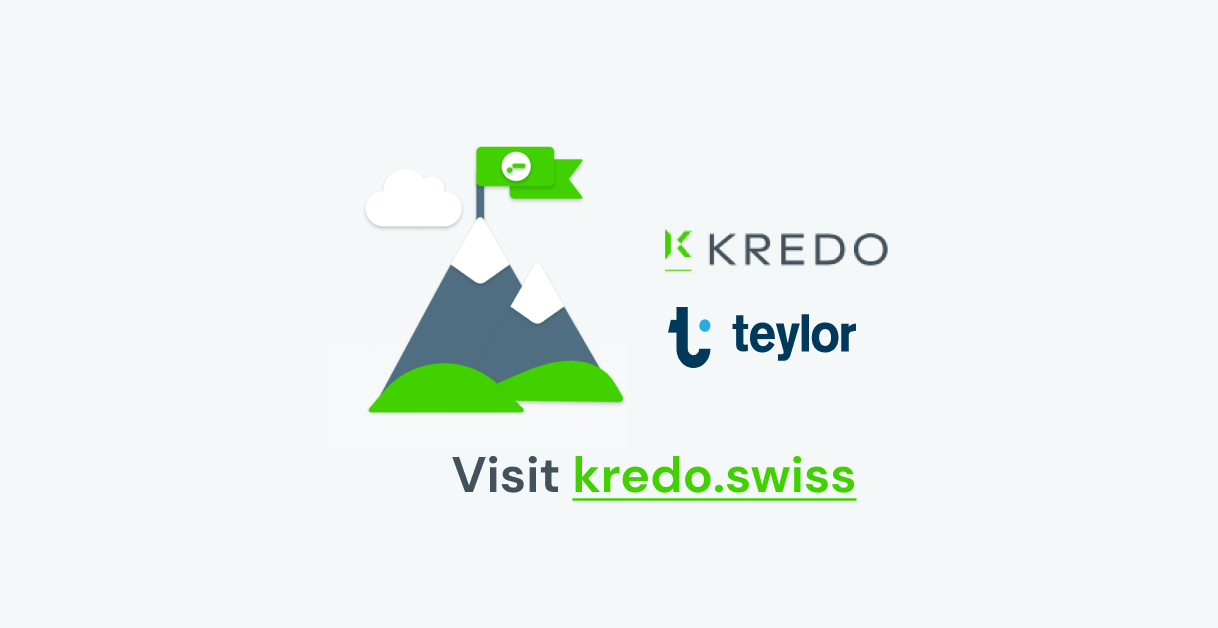 Teylor Expands in Switzerland: Credit Fintech Kredo Originates SME Loans within Minutes Using the Teylor Platform
Kredo, a new Swiss-based digital SME lending platform, is using Teylor technology to cut waiting times for SME loans from weeks to minutes.
The Teylor platform consists of a variety of software modules to digitise the entire loan lifecycle using automated analysis, due diligence and underwriting processes.
The partnership with Kredo expands Teylor's footprint in Switzerland and marks a further step in its global expansion.
Zurich, 06. September 2023 – With the launch of Kredo, small and medium-sized enterprises (SMEs) in Switzerland can now get fast and comfortable access to credit. According to the latest EY Global SME Survey, SME decision-makers consider slow access to credit one of their biggest pain points. The main reasons why borrowers face this challenge with traditional lenders are outdated and manual lending processes. To automate and speed up the lending cycle while at the same time reducing cost, Kredo uses the software modules of the Teylor credit platform, which digitise the entire loan lifecycle.
Lucas Wüst, CEO and founder at Kredo, comments:
"SMEs are confronted with an increasingly complex and rapidly changing environment. At the same time, access to credit is becoming more and more complicated and time-consuming with traditional lenders. In parallel, many professional investors are looking for investment opportunities decorrelated from the financial markets and which have a significant impact on the regional economy. We want to be the bridge between these different players."
The outstanding volume of SME loans in Switzerland currently stands at CHF 91bn, according to the Swiss National Bank, according to the Swiss National Bank. All loans originated by Kredo are funded through the Luxembourg-based Kredo Debt Fund I, which gives professional investors access to a diversified portfolio of Swiss SME borrowers in one of the most resilient economies of the world. Teylor's automated and AI-powered technologies accelerate origination, due diligence and underwriting processes, improving lending transactions for all involved parties.
Patrick Stäuble, CEO and founder at Teylor, comments:
"SME debt is an attractive asset class for institutional investors, especially in strong SME markets such as Germany and Switzerland. The accuracy of the underwriting technologies we use to power our debt funds adds an extra layer of security. Since launch, the default rate of the Teylor Debt Fund in Germany is less than one percent. We are looking forward to seeing our technology supporting Swiss-based SMEs and lenders."
The partnership with Kredo expands Teylor's footprint in Switzerland. Teylor has so far focussed its lending activities on the German market and serves software clients throughout Europe. Since its launch in 2019, the platform has processed more than €3bn in SME debt and become the biggest and best-financed credit platform in Germany. Teylor is now building up on these successes and expands its business model and technology in the international market.
About Teylor AG
Teylor is the Swiss technology company that has developed the Teylor Credit Platform, a suite of software modules that enable financial institutions to build, deliver and scale digital credit products. Banks throughout Europe use Teylor's software modules to innovate their lending processes, digitise their products and reduce the cost of lending. SMEs rely on Teylor for fast and convenient access to capital through Teylor's own private debt fund. Teylor can customise its software modules to fit the requirements of any credit provider and credit product. Lenders can pick individual modules to complement and integrate with their existing legacy processes and technologies or develop entirely new digital processes from scratch. Teylor is Zurich-based and was founded in 2018 by Patrick Stäuble. www.teylor.com
About Kredo AG
Kredo is a company specialised in advice and credits for SMEs. It is backed by professionals cumulating 130 years of experience serving SMEs, investments or risk management. Leveraging this experience and the technology developed by Teylor, the credit process has been rethought, improved and digitised to provide a quality of service to SMEs that meets the level of the challenges they face. Kredo is about entrepreneurs at the service of entrepreneurs, its ultimate goal is to provide concrete and constructive solutions while always keeping a transparent approach. Kredo collaborates with a dense network of fiduciaries and players close to the business community. Its vision is to become the most professional, fastest and easiest way for SMEs to obtain credit. Kredo is based in Pully (Canton du Vaud) and was founded in 2022 by Lucas Wüst. www.kredo.swiss
Press contact
Lukas Hofer
Press@teylor.com